Kristen Nagle: Canadian Frontline Nurses Across Canada Tour in Winnipeg [July 12]
Join Kristen and I to preview their event today! She's one of the brave nurses who chose speaking the truth over job security.
These women are a model for everyone who needs to get past being scared to lose what they have, and create in their own vision.
Jump on live at 11 AM CDT and show your support for their courage and vision for how health care can really be in a country where we are used to bending over, bending a knee, and bending our morals to suit the immoral majority.

ATTEND THE EVENT AT 1 PM AT 890 Pembina Hwy College of Registered Nurses of Manitoba. See ya there!!!
---
Kristen Nagle
Registered Nurse, BScN, RHN Ontario, Canada
She has been a nurse for 14 years, primarily in the Neonatal Intensive Care Unit, with previous experience in Pediatrics. ​ When Kristen's first son was born she realized the importance food would have in creating the foundation for his growth and development and enrolled at the Canadian School of Natural Nutrition. As a Holistic Nutritionist, Kristen is able to understand both conventional medicine as well as a more holistic approach that incorporates the mind, body and spirit to uncover the root cause of illness.
It was through this education that Kristen was able to have a deeper understanding of true health and well-being and the immune system. This led to further research into iatrogenic disease, vaccines and pharmaceutical propaganda. Kristen is a member of Vaccine Choice Canada and believes in medical transparency and informed consent, which is currently lacking in the health care system. Kristen has witnessed unethical measures as a Neonatal nurse which has empowered her to speak up and advocate for the babies that do not yet have a voice. Her first speaking debut was at her local city hall just weeks ago regarding masks on school children.
This led her to speaking at other Freedom rallies, eventually organizing her own successful freedom march in her hometown. Kristen is passionate about children's health and empowering families to trust their bodies and immune systems, to support and not suppress symptoms and to live a more natural life in harmony with the Earth with full body sovereignty.
www.canadianfrontlinenurses.ca
---
---
 * Sign up to chat about the Journey Code Coaching Certification program that is coming up in September! https://www.bethmartens.com/journey-code-coaching-conversation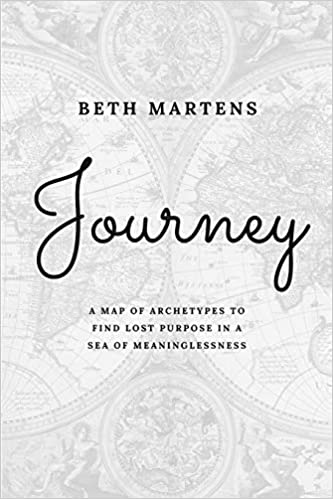 Sign up with your email to get a free reading of your King Hero Archetype and find out where you are on the path of purpose.
Are you more of a MerPreneur who wants to be valued for your life's work? Click to sign up for a free reading of your archetype.

Order a copy of my book, Journey : A Map of Archetypes to Find Lost Purpose in a Sea of Meaninglessness 
---
Discover how to tap lost meaning, power, and purpose 
---
Get direction, strategy, breakthroughs, and a royal handhold so you can walk your path of truth with unshakeable faith
Apply to work with me one-on-one
Archetype, Purpose, and Business Coaching
---
Follow the King Hero's Journey Podcast

About Beth Martens
For business coach, archetype reader, author and coach trainer, Beth Martens, her calling is a life or death thing. After a decade as a corporate VP in her family's firm, 8 trips to India, and a 3-year battle with cancer 20 years ago, she used archetypes to save her life.

Today she helps truth lovers find their sacred purpose, be valued for their life's work, and survive the ordeals of their Hero's Journey. As recovering feminist, she is passionate about hosting the King Hero's Journey podcast highlighting leaders, entrepreneurs, movement makers, and purveyors of the truth. 

Contact: beth at bethmartens.com