How Amandha Vollmer Walks With Authority in Truth, Health, and Justice
Join me for a King Hero's Journey podcast with professional holistic health practitioner, and fearless communicator of truth and justice Amandha Vollmer!!!
4 PM CDT April 9th
I had the pleasure of meeting her in person this past summer and can't wait to reconnect after months of new developments in the world and in her work.
She holds a degree of Doctor of Naturopathic Medicine from the Canadian College of Naturopathic Medicine in Toronto and a Bachelor of Science in Agricultural Biotechnology from the University of Lethbridge. She is a professional Holistic Health Practitioner, helping people to prevent disease and heal naturally for over 15 years.
Amandha owns and operates YumNaturals Emporium (yumnaturals.store), in Ontario (Canada) where she designs and produces handcrafted, all-natural body care remedies, since 2012. She is also a blogger, vlogger and the mother of a young and creative daughter.
She shares her precious holistic health knowledge and the wisdom of Mother Nature in articles and countless videos on her blog called Yummy.Doctor.
Amandha is also the published author of Healing with DMSO, a science-backed guide that will help readers understand how DMSO works, why it works, and the many ways we can harness its power to heal aches, pains, and other ailments, all in an easy-to-read and friendly way.
Amandha Vollmer is passionate about health and truth and is not afraid to voice her opinion, candidly using humour to deliver the message. During these challenging times, she has been recognized as one of the brave souls to tell the truth about what's really going on in the world, encouraging and empowering people to be their own master.
***
Join me on uncensored Telegram: King Hero Central https://t.me/kingherosjourney​
Find the other 100+ King Hero's Journey interviews and personal rants here: https://kingheros.bethmartens.com/blog

---
Did you enjoy the interview? Please comment below! If you're curious about archetypes, the Hero's Journey, and how to deprogram the new world disorder, check out the following.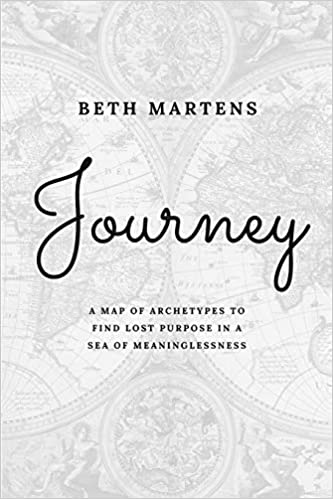 Sign up with your email to get a free reading of your King Hero Archetype and find out where you are on the path of purpose.
Are you more of a MerPreneur who wants to be valued for your life's work? Click to sign up for a free reading of your archetype.

Order a copy of my book, Journey : A Map of Archetypes to Find Lost Purpose in a Sea of Meaninglessness 
Register for the next Primal Power: Archetypes to Deprogram the New World Disorder course
---
Discover how to tap lost meaning, power, and purpose 
---
Get direction, strategy, breakthroughs, and a royal handhold so you can walk your path of truth with unshakeable faith
Apply to work with me one-on-one
Archetype, Purpose, and Business Coaching
---
Follow the King Hero's Journey Podcast

About Beth Martens
For business coach, archetype reader, author and coach trainer, Beth Martens, her calling is a life or death thing. After a decade as a corporate VP in her family's firm, 8 trips to India, and a 3-year battle with cancer 20 years ago, she used archetypes to save her life.

Today she helps truth lovers find their sacred purpose, be valued for their life's work, and survive the ordeals of their Hero's Journey. As recovering feminist, she is passionate about hosting the King Hero's Journey podcast highlighting leaders, entrepreneurs, movement makers, and purveyors of the truth. 

Contact: beth at bethmartens.com