Earthship Alchemy With Chad Schwartz [King Hero's Journey Podcast]
Many people in the truth community are looking for ways to live independent of the Babylon systems and grid. Chad Schwartz has taken it upon himself to lead the movement and bring the technology and architecture of earthship life to the people who want it.
Personally I'd like to have a banana tree in my house!!!
I had the pleasure of co-presenting with Chad at the recent Anarchapulco 2021 event where he demonstrated the build of an earthship in process. He's taking a break from that to join me for this talk and go into detail about what it takes to gain autonomy.
Chad's Bio:
Earthship construction and off grid autonomy have been a goal/dream of mine for many years. Given the immense emergency situation that was 2020 and the ongoing disaster of our time, I have been forced to kick those plans into MASSIVE overdrive (my own 'Operation Warp Speed' for autonomy). I took the online Earthship Academy after the shutdown ruined my plans for attending the hands-on sessions in Taos, New Mexico. As things have unfolded, it has become abundantly clear that Mexico is a great place to experiment with off grid autonomy and that I should begin my work immediately. Our first build here in Acapulco will be a 'low cost hut' that will comprise and explore all of the basic elements needed for survival and autonomy in the modern world. It will be a VERY simple structure intended for 3rd world survival. This will be a great stepping stone to teach others and open the door for future builds here and around the world. It will lay the groundwork for ANYONE to follow and get involved with Earthship inspired autonomy. My website is TriviumLinguistics.com. Message me at chadwschwartz@gmail.com for more info. www.TriviumLinguistics.com
---

Join King Hero Central on Telegram!
https://t.me/kingherosjourney
If you're curious about archetypes, the Hero's Journey, and how to deprogram the new world disorder, check out the following.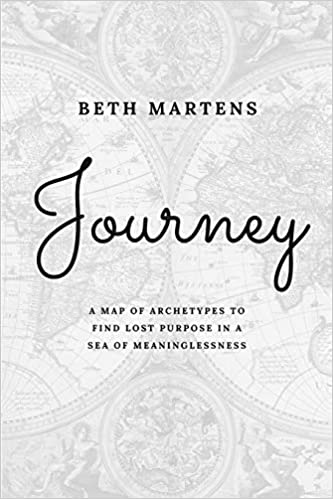 Check out the next Primal Power Course coming up!
Sign up with your email to get a free reading of your King Hero Archetype and find out where you are on the path of purpose.
Are you more of a MerPreneur who wants to be valued for your life's work? Click to sign up for a free reading of your archetype.

Order a copy of my book, Journey : A Map of Archetypes to Find Lost Purpose in a Sea of Meaninglessness 
---
Discover how to tap lost meaning, power, and purpose 
---
Get direction, strategy, breakthroughs, and a royal handhold so you can walk your path of truth with unshakeable faith
Apply to work with me one-on-one
Archetype, Purpose, and Business Coaching
---
Follow the King Hero's Journey Podcast

About Beth Martens
For business coach, archetype reader, author and coach trainer, Beth Martens, her calling is a life or death thing. After a decade as a corporate VP in her family's firm, 8 trips to India, and a 3-year battle with cancer 20 years ago, she used archetypes to save her life.

Today she helps truth lovers find their sacred purpose, be valued for their life's work, and survive the ordeals of their Hero's Journey. As recovering feminist, she is passionate about hosting the King Hero's Journey podcast highlighting leaders, entrepreneurs, movement makers, and purveyors of the truth. 

Contact: beth at bethmartens.com